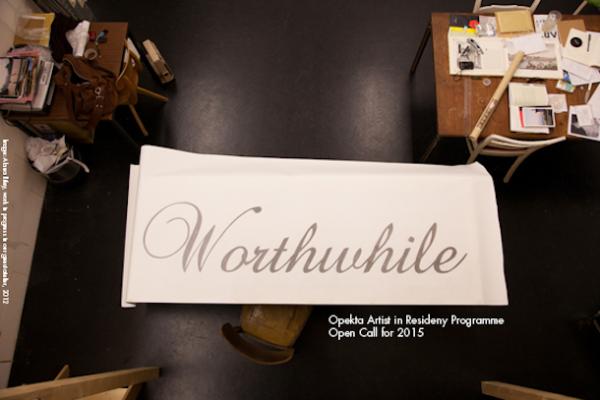 Internationales Opekta Gastatelier-Programm
Ausschreibung OPEKTA Gastatelier-Programm
Bewerben können sich:
– hochqualifizierte und professionell arbeitende internationale Künstler/Künstlerinnen und Kunstexperten aus allen künstlerischen Bereichen, die ein Projekt in Köln realisieren möchten (Einzelbewerbung)
– lokal angesiedelte Künstler/Künstlerinnen und Kunstorganisationen, die gemeinsam mit internationalen Künstlern/Künstlergruppen vor Ort ein Projekt erarbeiten und präsentieren möchten (Kooperation).
Für die Bewerbung benötigen wir:
– Projektskizze mit Angabe des gewünschten Zeitraumes (ab Januar 2015)
– Mappe (ggf. auch Links zur Dokumentation im Internet)
– CV (ggf. von allen Beteiligten)
Bewerbung bitte bis zum 10.08.2014, 23:59 Uhr senden an:
gastatelier@opekta-ateliers.de
Mehr Informationen im PDF
(Deutsch/English)
———————————–
OPEN CALL 2015:
OPEKTA STUDIOS COLOGNE INTERNATIONAL ARTIST IN RESIDENCE PROGRAMME
We are seeking applications from:
– International artists and art experts working professionally in any artistic discipline with the aim of realizing a project in Cologne, Germany (Individual application)
– Locally-based artists or art organisations planning to develop and present a project in Cologne in collaboration with an international artist or artist group (collaborative application)
Applications must include:
– Project proposal and preferred timeframe (4 – 8 weeks from Jan. 2015)
– Portfolio (PDF and / or links to internet documentation)
– Curriculum Vitae (from all applicants)
Please send applications to gastatelier@opekta-ateliers.de
Deadline: 10.08.2014, 23:59 h.
More information (pdf)
(Deutsch/English)