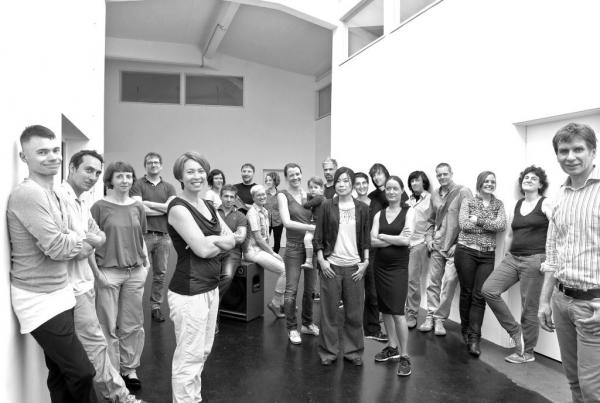 Die Opekta Künstler, Juli 2014 (Foto: Verena Günther)
Die im Kölner Stadtteil Nippes gelegenen OPEKTA ATELIERS sind eine gemeinnützige Ateliergemeinschaft, die 2009 von 8 Kölner KünstlerInnen zur Förderung von Kunst und Kultur in Köln gegründet wurde. Sie werden in Selbstorganisation geführt.
Nach umfangreichen Umbauarbeiten im obersten Stockwerk einer ehemaligen Pektin-Fabrik (Opekta = "Obstpektin aus dem Apfel") entstanden 14 Künstlerstudios und ein Projektraum, die offiziell im Mai 2010 eröffnet wurden. Zur Zeit arbeiten dort 20 Künstler in verschiedenen künstlerischen Arbeitsfeldern.
OPEKTA ATELIERS, located in Nippes, Cologne, is a not-for-profit atelier/studio, founded in 2009 by 8 Cologne based artists to promote art and culture in Cologne. They are self run organisation.
After extensive reconstruction work on the top floor of a former pectin factory (Opekta = "apple pectin"), 14 artist studios and a project space were officially opened in May 2010. At present, there are 20 artists working in various artistic fields of work.
OPEKTA ATELIERS also includes a photography studio and dark room with numerous members.
Die OPEKTA ATELIERS KÖLN werden unterstützt von: