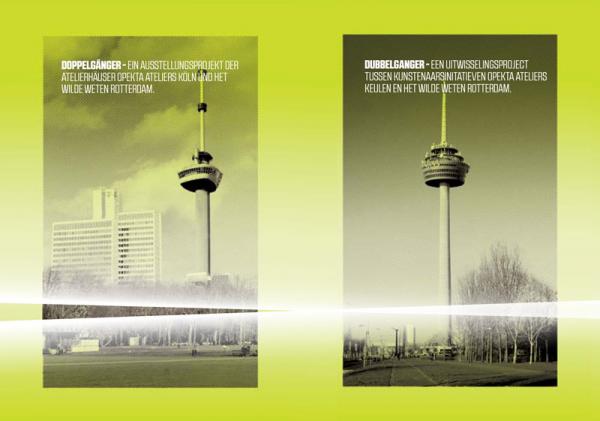 Het Wilde Weten Rotterdam zu Gast in den Opekta Ateliers
DUBBELGANGER*
*UND OFFENE ATELIERS!
21./22.September 2013
SA. 21. 09. 15-19 UHR
FÜHRUNGEN UM 16 & 18 UHR
AB 21 UHR FILMPROGRAMM UNDOFILM
23 UHR DOPPELPARTY
SO. 22.09. 13 -19 UHR
FÜHRUNGEN UM 14, 16 & 18 UHR
OPEKTA ATELIERS, XANTENERSTR. 99H
JAN ADRIAANS KIM BOUVY MARIELLE BUITENDIJK ANOUK GRIFFIOEN MARCHA VAN DEN HURK SIMON KENTGENS ESTHER KOKMEIJER MACHIEL KUNST
EVA OLTHOF ELIAN SOMERS MARCEL SWINT BAS WEIJKAMP TOBIAS BECKER PASCAL FENDRICH AYMERIC FOUQUEZ VERENA GÜNTHER FREYA
HATTENBERGER VANESSA JACK DIRK KÖNIGSFELD KARIN LINGNAU SHOKO MATSUYAMA JOANNE MOAR THERESE SCHULEIT LES ECLAIRS DAN DRYER
DE
Dubbelganger – Ein Ausstellungsprojekt der Atelierhäuser Opekta Ateliers Köln und Het Wilde Weten Rotterdam. Während der Offenen Ateliers kommen Künstler aus Rotterdam und stellen an verschiedenen Plätzen im öffentlichen Raum und Opekta aus.
NL
Een uitwisselingsproject tussen kunstenaarsinitatieven Opekta Ateliers uit Keulen en Het Wilde Weten Rotterdam.
Tijdens de Het Wilde Weten Open Studio's tonen kunstenaars uit Keulen werk op verschillende locaties rondom Het Wilde Weten.
EN
An exchange between artist-run spaces Opekta Ateliers Köln and Het Wilde Weten Rotterdam.
During the Het Wilde Weten Open Studios artists from Köln will show their works in different locations near Het Wilde Weten.