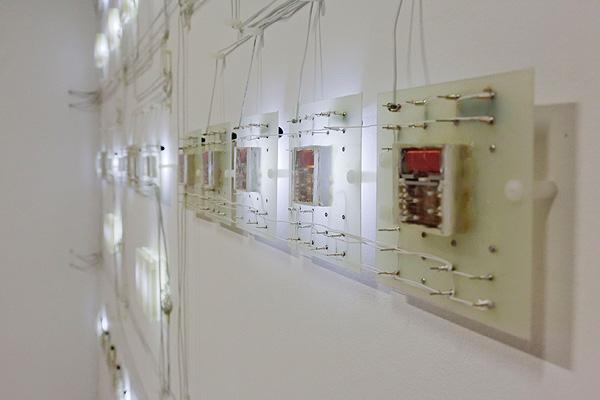 Gastkünstlerin im März/April 2014
Wir begrüßen unsere aktuelle Gastkünstlerin Diane Morin aus Montréal/Kanada, die bis Ende April bei OPEKTA bleiben wird.
Diane Morin arbeitet mit den Elementen Licht, Sound, Zeichnung und Robotik, die sich in raumbezogenen kinetischen Arbeiten mit auditiven und lichtwechselnden Atmosphären widerspiegeln. Im Kontext ihrer Residency bei OPEKTA wird Diane an neuen Installationen arbeiten: Aus alten elektronischen Geräten und gefundenen Objekten entwickelt sie einfache Rechensysteme. Dabei interessiert sie sich für die Frage, wie diese Systeme benutzt werden können, um Ereignisse und Daten im Verhältnis zu Zeit und Raum zu erzeugen und zu speichern.
Nähere Informationen über kommende Veranstaltungen und Vorträge folgen in Kürze.
We warmly welcome our new artist in residence Diane Morin from Montréal/Canada, who will stay at OPEKTA until the end of April.
Diane works with light, sound, drawings and robotics to create site-specific installations in which kinetic, sonic and luminous events occur. In the context of her residency at OPEKTA Diane will develop new installations using obsolete electronic devices and found objects to create simple computational systems. She is interested in how these systems can be used to generate and store data and events in relation to time and space.
We´ll keep you updated about future events and talks.