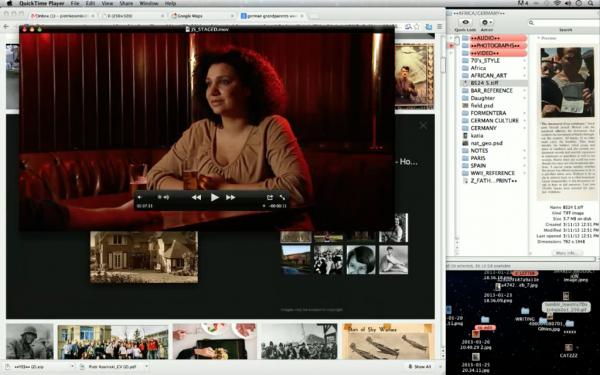 Gastkünstler im September 2014 / guest artist in September 2014
I Am Not Your Father (working title), 2013. HD video projection with sound
Wir begrüßen unseren aktuellen Gastkünstler Filip Kwiatkowski, der bis Anfang Oktober im OPEKTA Gastatelier arbeiten wird.
Filip Kwiatkowski untersucht die Beziehung zwischen Kino und Computerbildschirm. Dabei setzt die Neuen Medien als Sprache ein, um Erzählungen über Einwanderung zu konstruieren. Im Kontext seiner Residency bei OPEKTA arbeitet er an einem Videoprojekt, in dem er die Verwendung von filmisch-dokumentarischen Motiven in der alltäglichen Kommunikation untersucht. Filip wurde in Warschau geboren und wuchs in New York City auf. Nachdem er kürzlich seinen Abschluss am Art Center College of Design in Los Angeles gemacht hat, ist er seit Frühjahr 2014 Fellow an der Kunsthochschule für Medien Köln.
Zum Abschluss seiner Residency wird Filip einen Artist Talk über seine aktuelle Arbeit geben – der genauen Termin wird noch bekanntgegeben. Darüber hinaus wird er seine Arbeit im Rahmen der "Offenen Ateliers" bei OPEKTA präsentieren (26./27. September 2014).
We warmly welcome our new artist in residence Filip Kwiatkowski who will stay at OPEKTA until early October.
Filip's practice investigates the relationship between cinema and the computer screen, treating new media as a language in order to construct narratives about immigration. He is spending his time at Opekta finishing a video work that attempts to explore how cinematic documentary motifs are used in the space of everyday communication. Filip was born in Warsaw, Poland and grew up in New York City. Recently having completed an MFA at Art Center College of Design in Los Angeles, CA he is currently a fellow at the Academy of Media Arts Cologne.
At the end of his residency Filip will give an artist talk about his current work in progress. The exact dates will be announced in due time. He will also present his work in the context of the "Offene Ateliers" (Open Studios), which will take place from September 26-27 at OPEKTA.